For every € 100 in Kadonation Gift Vouchers we sell, Kadonation donates 1 tree to WeForest. By doing this, we contribute to the well-being of our planet and at the same time we help reduce poverty by creating jobs. So when buying Kadonation gift vouchers for your employees, you also help the environment with your company!
Under the motto 'Making earth cooler' this non-profit organization restores forests in tropical countries by planting trees in Ethiopia, Zambia, India, Tanzania and Brazil. Doing so, they are working on a scalable solution for a cooler climate, more biodiversity and less poverty. To this end, WeForest encourages companies to work with them to have a positive impact on our planet. And Kadonation is one of those companies.
Deforestation
Forests cover as much as 31% of our planet and are a crucial source of oxygen. Yet every minute an area of forest the size of no less than 17 soccer fields disappears. This means that in one year 6.5 million hectares of forest is disappearing. Together with these forests, an entire ecosystem disappears... This makes deforestation one of the biggest problems on earth. But fortunately there is hope, and hope brings life!
---
This is how Kadonation is helping
Our Kadonation Gift Voucher is a unique gift voucher that can be exchanged at more than 1000 stores spread over more than 80 gift partners. Per € 100 Kadonation gift vouchers, we plant a tree in Zambia with WeForest, for both private and business orders. Up to this day Kadonation already planted 70,000 new trees and helped a lot of people find employment!
---
This is how your company can contribute
Reward your employees and we plant trees in the name of your company.
When you place an order as a company, we make sure that for every € 100 ordered, a tree is planted in Zambia. So reward your employees for their efforts, show appreciation and motivate them for the future with the Kadonation Gift Voucher. This way you reward your employees and help nature!
Your employees can donate (a part of) their Gift Voucher to WeForest.
You have rewarded your employees with a Kadonation Gift Voucher. They spend the amount at the giftpartner(s) of their choice and they can donate the remaining amount that they do not use as a fund to WeForest.
Encourage your employees to support WeForest by doubling the amount.
What we increasingly hear from customers is that they encourage their employees to spend (a part of) their received gift voucher at WeForest - or another charity of their choice. As a company, you can make a commitment to double every euro of the gift voucher spent by your employees on a charity. That way, as a company, you support one or more charities and your employees experience double the impact of their contribution! On top of that, your company will rise in their esteem.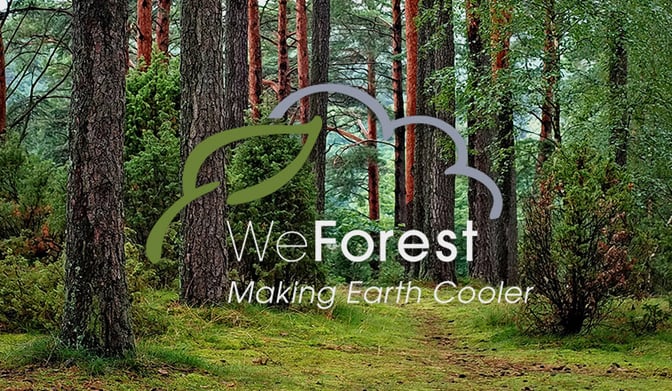 Would you like to know more about how you and your company can do good for nature and at the same time surprise your employees? Feel free to get in touch with us for more info!
What can Kadonation do for you?
At Kadonation we believe in two things: appreciation and simplicity. Appreciation, because we feel that taking care of your employees can only be beneficial for everyone. Simplicity, because we think that gift giving can be a lot more efficient and scalable for companies too. That's why we built an innovative, free platform: Kadonation Select.
Set up a smart recognition programme in no time.
Surprise your employees with the best gifts.
Get rid of ad-hoc gift giving in your organisation.
Say goodbye to that endless search for the right gift.
Keep track of everything, with unforgettable gifts always within reach.
Best of all: Kadonation Select is completely free. What are you waiting for?